About Breast Massage Therapy
Why Breast Therapy?
Breasts are often squeezed into tight bras and clothing which is not conducive to lymph and blood flow. Most women will experience symptoms like congestion and tenderness in their breasts. Some women may have had trauma or medical procedures disrupting the breast tissue or muscles under and around the breast. The main goals of breast/chest massage are to increase circulation and decrease congestion, promoting healthy breast tissue. Breast treatment can also help maintain good breast health by decreasing muscle tension in surrounding supportive structures such as:
Chest wall muscles
Muscles between the ribs
Shoulder girdle and rotator cuff
Diaphragm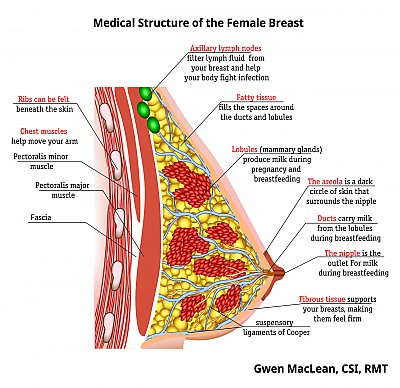 What conditions can be treated?
More specific work can be used to treat conditions such as:
Edema
Lymphedema
Painful breasts
Breastfeeding and weaning general drainage issues
Premenstrual congestion
Tenderness and congestion related to benign conditions
Changes associated with involution
Promotion of good quality scarring after surgery
Breast trauma
Restrictive, adhered and poorly oriented scars
Cancer treatment related issues
Integration of post-surgical changes
What happens at your appointment?
After a review of your health history and a discussion about your concerns and goals, your proposed treatment plan will be reviewed with you prior to the session. Proposed draping and techniques will also be explained, and your verbal and written consent will be required prior to treatment. The Therapist will work within the client's comfort level by massaging the breast/chest tissue through the sheets, or undraping, and working on one breast at a time. The areola and nipple are never included in the treatment. Clients can also be taught how to massage their own breasts/chests.
Breast/chest massage is within the scope of practice of a Registered Massage Therapist. RMT's trained in Ontario receive specific training in breast/chest massage as part of their 2200 hour certification.
My recommendation is to have a series of 3 treatments spaced 1 week apart to release all the tissues in the upper body including the breast tissue so that all tissue restrictions that could affect breast tissue health are treated.