Bio: Gwen MacLean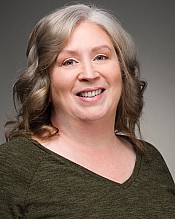 Gwen grew up in Nova Scotia and spent most of her career there in the manufacturing sector in middle management support roles. Early in her 20's she became interested in Massage Therapy and its effects on the body and mind. As the years went on she wanted to be the one to help other people relieve their pain. She had several injuries over the years that led her to being treated with most of the manual treatment options available. Even though she had treatment after her injuries, she never felt her body "was quite right" and always had pain.
After moving to Dorchester in 2011, she enrolled in the Massage Therapy program at D'Arcy Lane. In her final semester, she was introduced to Structural Integration. At that moment she knew the Rolf Method of Structural Integration was the piece missing in her injury treatment over the years. After being Structurally Integrated, the back pain that had been with her for 26 years disappeared. She had easy, soft posture (without having to use effort to put areas of the body in their place), and knew how to maintain the changes.
In September 2014, she started her 500-hour Rolf Method Structural Integration training with sought after speaker, practitioner and teacher Kevin Lucas from Neuro Movement Integration. She went from knowing she wanted to help relieve pain but not knowing which continuing education to take, to being 100% clear on what the rest of her career would entail. She wanted to empower other people with the Rolf Method of Structural Integration. She continues to be amazed with the changes in her clients every session and loves seeing their response of those changes when they move and in their after photos. She thanks her husband Kevin for supporting her in this journey, Cheryl for introducing her to Structural Integration, Lisa for treating her with the Rolf Method of Structural Integration 10 series, Kevin Lucas for taking Dr. Ida Rolf's work to the next level and sharing it with us in London Ontario and all her classmates for being such a powerful mastermind.
Gwen is in good standing with the College of Massage Therapists of Ontario